In school, we were encouraged to write in beautiful and legible handwriting. In today's technology, we work on computers and the internet provides us with a wide variety of fonts.
Some fonts, though very appealing, could be difficult to read and can cause a strain on your eyes. It is also important to use fonts that look professional in your Pitch.
Here are a few fonts that would make your pitch easy to read and look interesting.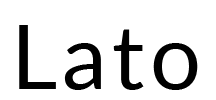 1. Lukasz, the designer of the font, con­ceived this type as a set of cor­po­rate fonts for a large client but in the end decided to go in dif­fer­ent styl­is­tic direc­tion. He used clas­si­cal pro­por­tions to give the let­ter­forms a touch of har­mony and ele­gance.The feeling of warmth is exuded by semi-​​rounded details of the let­ters while the strong struc­ture pro­vides this font with sta­bil­ity and seri­ous­ness.

2. Julieta Ulanovsky was inspired to design this typeface by the old posters and signs in the traditional Montserrat neighborhood of Buenos Aires. She wanted to rescue the beauty of urban typography that had emerged in the first half of the twentieth century. These font is easy to read and has well rounded letters which makes it look elegant and clean.

3. An elegant sans-serif typeface family, Raleway was intended for headings and other large size usage. It can be used to make your presentation look stylish and legible. It was initially designed by Matt McInerney as a single thin weight, but later on was expanded into a 9 weight family by Pablo Impallari and Rodrigo Fuenzalida.

4. While designing Quicksand, Andrew Paglinawan used geometric shapes as a core foundation.The type of the font is sans serif with rounded terminals. It was designed for display purposes but is clear and legible to use in small sizes as well. Thomas Jockin collaborated with Andrew in 2016 to improve the quality of this font. The letters are well spaced and beautifully designed to look great in your Pitch Deck.

5. Bebas Neue was developed by designer Ryoichi Tsunekawa. The typeface is stylish and graceful with its "familiar clean lines, elegant shapes, a blend of technical straightforwardness and simple warmth, which makes it uniformly proper for web, print, commerce and art" as quoted by the designer.
You can find these amazing font styles on Google Fonts. They will be easy on the eyes of your audience, and will prevent them from squinting everytime they want to read something on your Pitch Deck.
Do you use any beautiful font on your pitch deck that is not mentioned in our list?
Let us know which font looks great on your Pitch Deck in the comments section below.